EMV Certified Laundry Payment Systems
Why Choose SpyderWash
The success of a laundromat, multi-housing laundry room, or any other laundry facility depends on many key factors. Whether it's deciding how many machines to install, what brand of machines, or what forms of payment to accept, each decision is critical to your success. Since 1968, Setomatic Systems has created products to help you achieve your ultimate goal of financial success. That is why we created the SpyderWash Payment System—the most advanced payment system in the laundry industry today. Please see the "SpyderWash Index" on the right to learn more!
Features
Since its creation in 2009, the SpyderWash Payment System has revolutionized the laundry industry. Our system allows your customers the convenience of using coins, credit/debit cards, loyalty cards, RFID contactless credit cards, or NFC mobile wallets such as Google Wallet and Apple Pay mobile wallet to pay for their laundry. SpyderWash is completely wireless and utilizes the highest level of Bluetooth™ encryption. Our web-based software offers full accountability with access from any web-enabled device. See all transactional history, including coins in "real-time." With our free integrated loyalty card program, take advantage of the many marketing possibilities at your disposal. No more using/painting quarters for wash-dry-fold; simply use a SpyderWash wash-dry-fold card and track your attendants' usage. Please see the "SpyderWash Index" on the right to learn more!
Business Solutions
In today's society, we understand that it is critical to keep up with both technology and worldwide trends. In every industry, the use of cash has drastically diminished as consumers tend to favor other payment methods. This is why we created our revolutionary SpyderWash Payment System. With over a billion credit/debit cards circulating throughout the United States, we knew it was important for laundry owners to offer their customers the option to pay for their laundry the same way they do for other "everyday" purchases. We also knew that it was equally important to create a payment solution that was not going to be outdated in a few years. SpyderWash is the only payment system in the laundry industry to incorporate both RFID contactless credit cards and NFC mobile payments, such as Google Wallet and Apple Pay mobile wallet. These forms of payment are rapidly taking hold in the United States and are already the norm in many other parts of the world. Invest in the future, not obsolesce. Please see the "SpyderWash Index" on the right to learn more!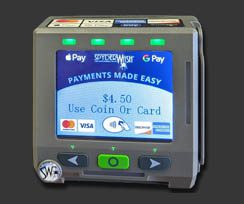 Next-Gen Laundry Room Payment System
Let customers pay how they want, and make sure you never miss a sale again based on payment preference. Open a new demographic for your business with both contactless payments and mobile payments. SpyderWash is the secure, all-in-one laundromat payment system for the modern and digital age. With our solution, your laundromat can accept coins, credit/debit cards, loyalty cards, RFID contactless credit cards, or NFC mobile wallets. Upgrade even your oldest washer and dryer models with ease. We've been making family laundry time better and more convenient since 1968. Setomatic Systems provides your business with cutting-edge solutions and a legacy you can trust.
Go Digital with the SpyderWash Laundry Payment System
SpyderWash is a modern digital laundry payment system that can widen your business's target audience. When you invest in SpyderWash, you help expand your business and reach. People who have missed out on the laundromat experience because they only want digital payments can become your new loyal customers.
This payment system has unique features, including:
Our payment solution is the only system on the market that can accept contactless credit/debit cards directly on the washer/dryer, including Visa, Mastercard, American Express, and Discover.
We accept loyalty cards, RFID contactless credit cards, and NFC mobile wallets. We use long-range Bluetooth technology connected to each washer and dryer for user-friendly and easy payment, even if your laundry is unattended.
We embrace tradition by accepting coin payments, although this is optional.
We integrate our no-hassle loyalty card system by enabling you to instantly assign a loyalty code to repeat payment credit/debit cards. Customers can also use a loyalty laundry card instead if they prefer. With our system, your customers are not forced to register or purchase a separate laundry card to get loyalty perks.
Our web-based management system allows your business to track payments digitally in real-time from anywhere in the world.
Our payment solution can withstand soap spills, water sprays, and consistent usage.
Legacy of Innovation
Setomatic Systems has been an industry leader in laundromat payment systems for over 50 years. In the 1950s and 1960s, we were creating coin vaults and locks. We were at the forefront of the 1970s for laundromats with card technology meters for magnetic cards. In the new millennium, we have brought innovation to smart cards and, even more recently, NFC devices like the Apple Watch for laundry payment systems.
Let innovation bring new life to your laundromat business. Join our family of clients so you can partner with Setomatic Systems wherever we go next.
Industries SpyderWash Serves
We serve all markets with a convenient, low-stress setup process that can transform your location into a contactless payment system laundromat. Many of the largest commercial laundromat owners in the country, as well as hotel locations like Marriott, Hilton, Embassy Suites, and Sheraton, choose SpyderWash as their solution.
Several of the markets we serve include:
Commercial Laundromats (Vended Coin Laundries)
Multi-Housing Units
Apartments
Hotels
Resorts
Colleges/Universities
Trailer/RV Parks
State Parks
Campgrounds
Travel/Truck Stops
To start doing business with us, get in touch today for more information. 
Testimonials
"I don't know how you could run a coin laundry without SpyderWash."
Chuck Pappadakes
Katie's Clean & Green Laundry Center
Lakewood, OH
"The Spyderwash website is also very valuable in tracking sales, and the customer support has proven to be very good as well. We believe that the Spyderwash system is an asset to our business now and will also be if we choose to sell in the future."
Skip and Maria Ward
Lamoille Laundry Center
More Testimonials